It's always a good time to watch Boyz II Men's video "Motownphilly." Not only is it early 90s R&B in its heyday, but the video features the brightly colored sports coats and sweaters of the era as well.
It's clear that Lebron James must be a huge fan of this time period because he's single handedly attempting to bring that clothing style back.
Look at James at the 2009 NBA-All Star weekend in the picture below. With that bright yellow sweater, I'm not sure if he's there for All-Star weekend or auditioning to be the new fourth member of Boyz II Men. Hey, James has a deep enough voice to replace the bass guy who left the group.
The new member of Boyz II Men
That's not the only way the video appears to have inspired James. The pretend team pictures that James takes before games are quite similar to the group pictures taken in the Motownphilly video.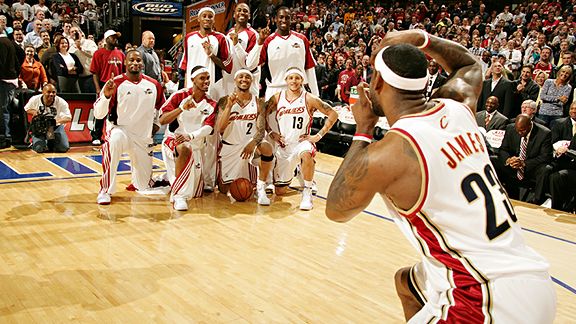 Does this mean the Cavaliers have joined Boyz II Men,
ABC, BBD in the east coast family?
Excuse me, while I run out to get bright orange/pink sports coat so I can be ahead of the curve if James succeeds in beginning back the early 90s.