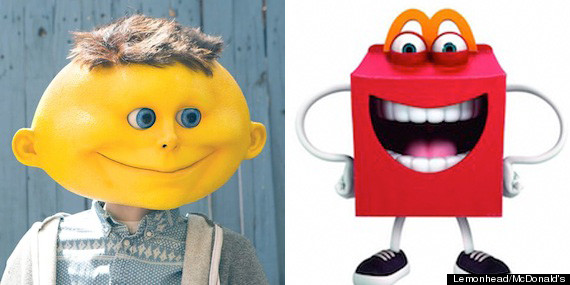 This has been a bad week to be a child as Lemonheads and Mcdonald's introduced creepy new mascots Lemonhead and Happy respectively.
Apparently market research determined that brand ambassadors who inspire fear are a good idea.
They both look like characters out of
Goosebumps
books, but I think Lemonhead is the more disturbing mascot.
His giant Lemonhead with piercing blue eyes and a sadistic smile is an image straight out of a nightmare. It looks like he's about to snatch your soul.
The fact that he has a full sized human body to chase you down with means that you can run, but you can't hide.
The Happy Meal mascot
(Happy)
looks like a twisted
The Shining
version of a Happy Meal. That's not happy, it's crazy. Happy even appears disturbingly similar to Jack Nicholson in
The Shining.
The only positive out of all these disturbing mascots is that maybe parents can scare kids out of wanting Lemonheads and overpriced Happy Meals.
Of course that's assuming Lemonhead and Happy don't get to the parents first...